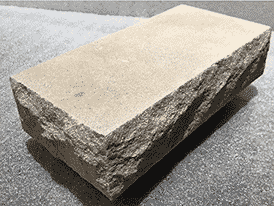 STONE COLOUR:
Buff Limestone with cream and grey tones. Least textural of all custom cut stone- quite uniform in colour and texture
EDGING AND FINISHES:
Standard – Honed Top, Chiseled Edges
Options:
Sides – Chiseled, Sawn
Top – Honed, Sandblasted
Additional Finishes:
Polished, Sealed, Beveled Edges
STONE THICKNESS:
Available in 1″, 2.25″, 3″, 4″, 5″, 6″ & 7″

Sill Specs:
– 2.25″ H x 2.5″ W
– 3″ H x 6″ W 
Sill available by the linear foot. Produced with a chiseled edge along the face, cut ends, and a drip edge on the underside.    
COMMON USES: 
Hearths, mantels, wall caps, post caps 
ARCHITECTURAL ACCENTS:
Electrical Receptacles, Light Receptacles and Sill available.
Custom work available, please contact for more information.
Indiana Limestone is a versatile material for nearly all of your construction needs. It can be used for outdoor applications like wainscot sill, or architectural elements like quoins or window surrounds. Since it is a soft limestone with minimal graining, it is fantastic for complex and detailed carvings.  
Indiana Limestone is a wonderful material to finish a fireplace, whether it's the mantel, hearth, or both- it will be a timeless addition to any project due to its neutral colour. 

Indiana Limestone is also available in 3 thinstone veneer styles- a Split Face Ashlar, Tumbled, and Sawn Face.