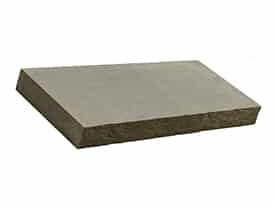 STONE COLOUR:
Medium greys, neutral earth tones
EDGING AND FINISHES:
Options:
Sides – Sawn, Flamed, Chiseled
Top – Sawn, Flamed,
Additional finishes:
Polished, Sealed

STONE THICKNESS:
Available in 2″, 3″, 4″, 6″ & 8″ Width stock sizes. Bed Depth ± 1/8″
Available in custom widths up to 24″
COMMON USES:
Hearths, Mantels, Wall Caps, Post Caps, Wainscot Sill
Natural stone is an extremely durable building material, which provides a low maintenance option for exterior finishes. Newcastle Wall Caps will not fade or warp over time, which are common problems with traditional wood trims and even concrete. When correctly installed, stone wall capping products can help extend the life span of natural stone treatments indefinitely.

On outdoor elevations, low walls can effectively define a principle entrance in conjunction with a porch, veranda or some other kind of overhang to protect the front door. Using Newcastle Wall Capping to finish off the top edge, not only protects the stone wall from dripping water, it looks great as well. The same treatment can be applied to low retaining walls outlining outdoor kitchens and lounge areas, or around planting beds, heritage trees, fire pits or pool enclosures. Designed to complement thinstone, full bed and other custom natural stone products, Newcastle Wall Cap can add a professional masonry touch to many landscaping features around the home.