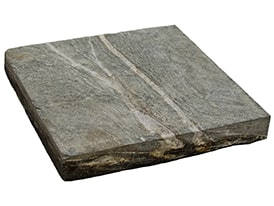 STONE COLOUR:
Medium grey with a cool undertone, white quartz veining throughout
EDGING AND FINISHES:
Standard – Cut top, Flamed edge
Options:
Sides – Cut, Flamed, Natural 
Top – Cut
STONE THICKNESS:
Standard – 2″, custom thicknesses available

Sill Specs:
– 2″ Thick – Thickness can vary ± 1/16″   
– Available in 3″, 4″, 6″ & 8″ width stock sizes. Bed depths can vary ± 1/8″ 
– Typical lengths vary from 14″ – 48″
– Available in Custom Widths up to 24″
– Cut top/bottom & front/back with flamed front
COMMON USES: 
Hearths, mantels, wall caps, post caps 
Good for Interior and Exterior Application
Traditionally, on exterior walls, wainscot sills are used in conjunction with stone treatments, extended past the stone facing to divert water away from your home. Wainscot sills create a clean transition between natural stone treatments and other siding materials. For example, Ocean Pearl Cut Top Wainscot Sill can be applied at the top of a half wall of stone veneer to mark the transition to an upper half wall of wood siding. For one of a kind design elements, ask about finishing with custom cuts, larger sizes and additional flaming options.

Ocean Pearl slate is our most durable stone material due to its density and composition. Our slate wainscot sills require virtually zero maintenance and will withstand the natural elements in all climates. Unlike traditional wood or manufactured trim materials, natural stone will not fade warp or deteriorate over time.

No matter where it's applied, Ocean Pearl Cut Top Wainscot Sill can finish off any natural stone treatment in style. The strong horizontal lines of wainscot sill pieces contain, organize and define stone and other elements on the exterior elevations of your home. When incorporated into an architectural design, capping products such as wainscot sills, compliment natural stone veneer and full bed profiles with a professional masonry finish. Contact your local K2 Stone representative to learn more about our natural slate wainscot sills.